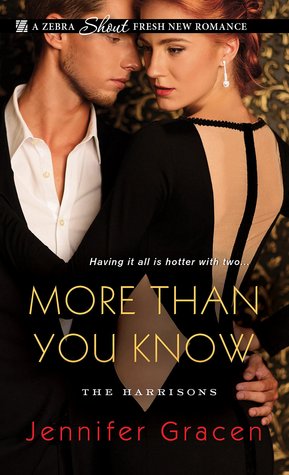 Book Title: More Than You Know
Series: The Harrisons 1
Genre: Contemporary Romance
Author: Jennifer Gracen
Purchase: AMAZON

Book/Movie Overview


A Zebra Shout Fresh New Romance



Hotel owner Dane Harrison, middle brother of a wealthy Long Island family, needs a lounge singer for his new luxury property. With her stunning voice and amazing curves, Julia Shay is perfect. She also seems to be the only woman in New York City who isn't falling at Dane's feet. And despite her feisty attitude and his rule against workplace affairs, he wants her—in his arms, in his bed, anywhere and everywhere.


Julia loves her new job, and she knows better than to think she can keep it and Dane. Even if he wasn't her boss, Julia's painful history has given her ample reason to steer clear of rich, powerful charmers. Still, their chemistry is unlike anything she's known, and when it becomes too much to resist, they agree to one no-strings night together. But instead of quenching the fire, the intense encounter only proves how much they have to lose—or win…


---
---
*ARC Provided for an Honest Review*
I'm surprised I even finished the book. There are a few points that i really did not like while I was reading it and the major one is that it was so dragging for me that I almost did want to skip some chapters. Why I didn't do it? I don't know. I guess I wanted to be optimistic that it'll be great towards the end.
The next thing that didn't sit well with me is the fact that the book has the heroine is older than the hero. There are times that I do let this minor detail slip but in this case I guess the age is too old I was bothered by it but I tried really hard to just get over it.
Lastly, I didn't like how the drama and the conflict was. Both parties were over reacting and really, they separated for the slightest reason. I would expect that kind is only good for a short fight but in this one it was a major turn off that there wasn't a better conflict that what was written cause if it was, I'm sure I'm going to rate this book more than 3 stars.
In totality the book was a good read. The thing is, the book is really forgettable. That's one of the reasons why I gave the book an okay rating. It's like, after a few hours when I finished reading it I've completely forgotten what it was about. But If you're looking for the simple and not too tragic but hot with sex then this book is for you. I haven't come across any book from Jennifer and honestly with this book I think I'm going to be picky when I choose a book from her in the future.


Excerpt #2


And that face. She couldn't help but stare. Strong, square jaw, full lips she could nibble on for hours. . .and his eyes were truly beautiful. She'd rarely seen eyes that shade of blue, a brilliant blue that seemed to glow. They were lit with good humor, as if he had a secret he was dying to let you in on. This was a man who viewed the world as his playground, she could just tell. And for all she knew, it probably was.

She and Dane reached for their drinks at the same time and their hands brushed. The contact made a shiver run through her. Did he have to be so damn hot? She gulped more water.

So, she thought, let's list all the bullet points. Moviestar handsome, and just as charismatic. He was also bright, articulate, and so charming that she bet he wrapped people around his finger wherever he went.

And, apparently, filthy rich and successful. Definitely rich enough to offer her a hundred thousand dollars to sing at his hotel without blinking an eye. That helped explain the air of power and self-assurance that surrounded him like a cloak. The whole combination was as sexy as sexy got. She wanted to climb

him like a mountain.

In short, Dane Harrison was dangerous.

Every fiber in her body warned her to steer clear of him, even as those same fibers were filled with lust just being near him. Yup. Danger of the worst kind.

And he'd be her boss? Holy crap. Dirty thoughts involving your boss were an instant recipe for disaster. Any dumbass knew that. But . . .

Should she do it? Should she quit her job and give this crazy idea a try?

"Julia." Kelvin's insistent tone broke her from her thoughts. "Can I talk with you for a few minutes before we get back on? We do have to finish up."

"Of course," she murmured, still feeling like she was in a bit of a trance. She blinked a few times and finished the glass of water.

"I'll stay for your last set," Dane said to her. "Afterward, can we talk some more about this? I'll wait. I'm not leaving here tonight without an answer, one way or the other."

"Demanding, aren't you. I'll keep that in mind as I think this over." She rose to her feet, her large breasts accidentally brushing against his arm. A stab of heat seared through her, her nipples peaking instantly.

Color flooded her cheeks as her eyes flew to his. He was already staring at her, the intensity in his blue, blue eyes almost startling. "Sorry," she murmured. "Tight quarters here."

"Nothing to be sorry for," he said. His eyes held hers for an intense second, pure electricity, before he moved back to let her pass easily. "It's been a pleasure talking with you, Julia. I'll be interested in hearing what you have to say when you're done singing. I'll wait for you at my table." He shook her hand again and the feel of his skin against hers brought another lick of desire. All of her girly parts were doing a little dance. He smiled genially, then shook Kelvin's hand before they walked back toward the dressing room.

Kelvin was silent until they reached the room and he'd locked the door. Then he spun around and exclaimed, "Is he fucking for real?!?"

She laughed nervously. "He claims he is. But Kel . . . anything that seems too good to be true? Usually is."

"Shut up and sit down, woman," Kelvin sputtered. He pulled his cell phone from his pocket as he pulled her down to sit with him on the couch. "Let's give our foxy Mister Harrison a quick Google, shall we? The audience can wait five more minutes." His eyes were wild as they swept over her. "He is beautiful. Good Lord, did you see his eyes? Are those not the bluest eyes you've ever seen? I almost swooned. No, I am swooning. I am in mid-swoon."

Julia giggled and shook her head. "You're shameless."

"And that hair! He's got curls so sweet, I could . . .oh, honey, I could."

"I don't think you're his type, sweetie," Julia said, glad to be laughing. She hadn't realized how tense and wired she'd been until now. "Sorry."

"No, I'm not. He wants you." Kelvin waggled his dark brows. "The heat between you two could've caused third-degree burns in spectators."

Startled at her friend's observation, she sat up straighter. "Well, even if you were right, which you're not, it's not going to happen. If I take him up on his offer, he'll be my boss. So end of story."

"Famous last words," Kelvin said dismissively as he scrolled on his phone. "Harrison . . . Harrison . . . if he's the real deal, you just stepped into the best offer of your life!" He stopped, and his eyes flew wide. "Oh. Mah. Gah. Look at this, honey."

She leaned against his arm to look at his phone. There were many pictures of Dane Harrison. At various hotel openings and celebrity events, in news articles on business Web sites, and even a few paparazzi shots of him with a few gorgeous models and society darlings, women who lived in the same stratosphere he did.

Kelvin tapped one of the links and began reading out loud. "Harrison Enterprises is a multimillion dollar international conglomerate . . . four generations . . .and . . ." Kelvin's eyes went as wide as they could go, practically popping out of his head. "Holy shit. He is big-time, honey. Big. Time. His family is worth millions. Millions of millions. That sizzling piece of man candy was born into old-school money. And grew up right here, over in Kingston Point."

Julia had driven past Kingston Point, but never actually through the small community. Why would she? It was home to some of the wealthiest, most powerful people in all of New York—in all of the United States. "Gatsby country," Randi called it. Kingston Point was the jewel of Long Island's famous Gold Coast.

Kelvin kept skimming and talking. "Went to top schools . . . yada yada . . . then he went out and founded his own company and made his own million dollar empire . . . sweet Jesus." Kelvin let out a puff of air that resembled a yelp. "According to this article, Dane Harrison owns seventeen hotels across the U.S., and three in Canada. This new hotel he's opening? His 'labor of love,' the one he's always wanted to open. The hotel is real. The job offer is real. He's for real." Kelvin and Julia stared at each other for a minute.

"And he wants to hire me?" she finally said.

"Damn right," Kelvin said firmly. "Shows that man is more than pretty, he's smart, too. Knows a diamond when he sees one."

"Shut up," she mumbled, trying to absorb everything that was happening. Her heartbeat started roaring in her ears.

"Holy shit, Jules. Holy fucking shit!" Kelvin whooped loudly, his short dreads swinging as he threw his hands in the air. "Um, Miss Thang? Tell me something. Why am I more excited than you are?"

"Because I don't trust anything that seems this amazing," she said.

He blew out a disdainful snort and went back to scrolling furiously on his phone. "Honey, you don't trust anything, period."

"Well, more specifically, I don't trust men," she corrected him. She put her hand on his knee. "But I trust you."

He stopped cold and looked up at her. With great affection, he slid his arm around her shoulders and pulled her close. "I know you do. And I love you too. But listen to me. You're going to take that job, even if he decides he doesn't want me in the deal. You hear me?" His smile warmed. "You're an angel for wanting me to do this with you, and it would be a ball. But if he only wants to hire you, baby, you have to do it.
Come on, Jules. There's no thought process here. Let's see what else we can find out about him, shall we?" He leaned in to smack a loud kiss on her forehead and she couldn't help but giggle.