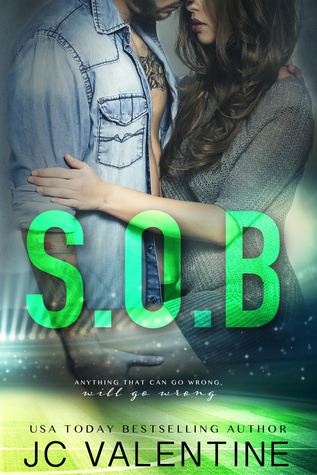 Book Title: S.O.B
Genre: New Adult Romance
Author: J.C. Valentine

Purchase: AMAZON ♥ PAPERBACK
Book Overview

Levi Black is an s.o.b.

Born with a silver spoon in his mouth, he's a pretentious, obnoxious, womanizing jacka** who thinks the world revolves around him.

He wouldn't be wrong.

A famous soccer player, his skills on and off the field have won him medals, trophies, women, and the cover of every heartthrob magazine in the country. He's broken nearly every bone in his body and a few hearts along the way, including mine—his stepsister—and lived to tell about it.

One night changed everything, and I've avoided him like the plague ever since. Just long enough to finish college, to bury the hurt, and to outrun the memories. But now that's all changed. I'm back, and there's no more running.

My hands are supposed to be my livelihood, but now they're my curse. Levi's reckless ways have landed him in a sticky situation, and his father has given me an offer I can't refuse. One month, and all I have to do is put my hands on his body. Easier said than done. The problem is, even though I know it's bound to bite me in the a**, I can't bring myself to say no to the s.o.b.
---
---
I enjoyed the book. But, to be honest, the misunderstandings irritated me so much I had to put the book down for a few minutes to breath because, I was seriously pissed at this characters when they overthink. So I have just came out of my shell and finally declare that I can now read "Step-Brother" themes after so many years of avoiding it and, S.O.B., did not disappoint.
Vista and Levi were explosive. I love their story from the moment they were put in the room. I was like, this is going to be a great read I can already feel it. And it was. Vista being heart broken after Levi was my favorite part because then she got stronger and she got better while Levi, Levi had a broken heart too but, it took him some time to do something. Said he was giving it time but to me he was procrastinating. He should've been more determined when it comes to get Vista and when he did I think it was already 60% in the book so I was like, Okay he can still save some after what he discovered. And what a damn twist. I was not expecting that in this book. I mean, I had a gut feeling it will happen but I was like, no, I think it will happen after their hea. But, it happened sooner that I expected and that was just mega wow. I loved every moment after that.
4 stars for this great and enjoyable book. I'm glad I was not disappointed and that my expectations for this to become a great read was achieved!
There is a giveaway for a $50 Amazon Gift Card