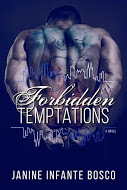 Book Title: Forbidden Temptations
Series: Tempted 2
Genre: Contemporary Romance
Author: Janine Infante Bosco

Book Overview

Anthony Bianci
Since I was a kid all I ever wanted to be was a gangster. I wanted to be feared, to be respected, and for everyone to know my name.
And then she came into my life.
I never planned on falling in love with the mob boss' daughter. She was forbidden but somehow she became mine. She made me crave things I didn't even know existed and made me forget about the things I thought I wanted. My quest for power faded away and was replaced by my undying love for her.
Until reality bit me in the ass and I was sent to prison for three years, doing time for a crime I didn't commit.
Now I'm out and she is creating a life for herself, just like I always wanted for her. Only I'm not a part of that life. I won't ruin her any more than I already have with my poisonous lifestyle.
No matter how tempted I am.
Adrianna Pastore
I wanted him from the very first time I laid eyes on him.
He was everything to me, my first love and probably my last.
Then my father ruined our perfect little life, and he walked away from me.
I tried to fight for him, for our love, but he pushed me away.
When the love you crave is beautiful, yet forbidden, you can't help being tempted.
So I'll fight for him. For us.
Even if I'm the only one fighting.
---
---
*ARC Provided for an Honest Review*
Yes Yes Yes YES!!! I could not even begin to tell you how impressed I was when I started reading this book. I really really thought this was going to be one of those mafia/alpha male books and that's the extent of it, however, I was right on the alpha male side but I did not expect everything in the story to be so painful and chaotic. I was crying in the first few chapters of the book. Hard. From the moment I started reading I have become so moody. And that's not even a joke.
Anthony and Adrianna, this couple is flawlessly perfect. Their combo would really result to an amazing relationship. Adrianna is not your typical mafia girlfriend, she's one strong af girl and she could stand up for herself. When she set herself for Anthony and she started coming to him, she never stopped. And I have a feeling she would never stop until Anthony could prove that they aren't meant for each other. She's determined and such a strong character. Anthony on the other hand ruled this book. He was dominant, confusing and frustrating sometimes. Most times I'm like, yeah I agree with him but at times when he starts to deny things I get really annoyed with him and still, I can't help but understand him.
I don't know where I was and how I've never heard of Janine Bosco before. Honestly, I've never heard of her which means I have not read the first book in this series. I don't know if I really didn't know that this is the second book or I just ignored that fact completely because now, I really really want to read Mike's story. 5 stars is not even enough to rate this book. This is worth so much more!


"Take your clothes off," I ordered, before I turned away from her and bent down to twist the knobs on the bath tub and drew her a warm bath. I reached underneath the sink and grabbed a box of Epsom salt to add to the tub. Once the tub was full, I turned around and found her leaning against the bathroom door naked, a gleam in her eye. She padded towards me, her eyes never leaving mine as she dipped one foot into the tub and then the next.

She slowly sank into the tub, wincing as her body folded into it, all aches and pains from her work out yesterday. The water was crystal clear and my eyes couldn't help but watch as she straightened her legs in the water slowly. She was settled into the tub, as comfortable as she would get, before she lifted her eyes back to mine. Her breasts sitting just above water level.

"Soak in there for about forty minutes," I said gruffly, her nipples hardening under my stare.

"Don't leave." She whispered.

"Five minutes ago you were punching me now you want me to stay?" I asked, as she completely stripped me of my resistance and pulled the clip out of her hair, letting the brown waves fall around her shoulders just shy of covering her tits.

"You make it sound like it's something new with us," she questioned cocking her head to the side, pausing for a moment before she softly continued. "No one plays this game better than you and I. I push, you pull, I push a little harder, you give in and then it's your turn to push and you keep pushing until you think I'm done pushing you back," she continued shrugging her shoulders as she spoke. "And then we start all over again."

I gave in just like she knew I would and put the toilet seat down, sat down and rubbed my hands over my face.

"We're pretty predictable."

"Yeah," she whispered, slipping further under the water her hands were all over her own body, making me fucking jealous that they weren't mine. "You always give in eventually," she persisted before pausing for a beat. "Even back then when I was just a girl, you still gave into me, how come?"

"You're easy on the eyes," I explained, winking at her then straightening up and staring into her eyes.

"Yeah but I was younger than you, so much less experienced than you … I often wondered why you even bothered."

"You're confident," I started. "Whether you were younger or less experienced never mattered because I knew a confident woman could be taught all the things she wasn't experienced in. You weren't insecure which made you easy to mold, easy for you to learn all the things you hadn't yet tried."

She laughed slightly. "So you're taking credit for how good I am in bed?"

"Abso-fucking-lutely," I grinned.

"I suppose you may have taught me a thing or two," she countered, her hand traveling between her breasts, down her stomach and pausing right at her navel.
"Like what?" I asked, knowing I was a goner.