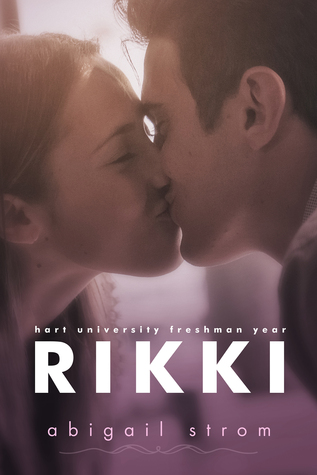 Book Title: RIKKI
Series: Hart University 1
Genre: New Adult
Author: Abigail Storm

Purchase on Amazon
Book Overview
Ever since junior high and an ill-fated game of seven minutes in heaven, Rikki Eisendrath and Sam Payne have hated each others' guts. But when they end up at the same college—and the same dorm—they figure it's time to declare a truce.
They even become friends… sort of. But when Sam asks Rikki to model for his sculpting project, they start spending more time together—and her feelings for him get more complicated.
She tries to focus on the guy she's been crushing on instead. But Sam's the one she can't stop thinking about, even though their arguments are starting to heat up as much as the chemistry between them.
With antagonism and attraction this intense, there's bound to be an explosion. But when the dust settles, will Sam and Rikki be enemies, friends… or something more?
---
---
This book has the same vibe Fangirl by Rainbow has given me. Though the story is so much different, the feels of it is
really the same for me. It made me remember those days I was reading Fangirl and loving the friends to lovers relationship. The book however was not from friends to lovers, more like i-know-him-from-high-school-so-we're-friends to blurry relationship. I haven't read a book from Abigail Strom before but she has impressed me with this book. 4 Stars!
Rikki and Sam's story started out so cute and it felt very real. The hesitation they had when they first kissed was adorable and I literally got the feels for it. Then later on as they progressed to high school and to college I thought it officially faded and that spark they had when they kissed faded. As I was reading the middle part of the book I was starting to get confused with what the characters were thinking or saying. It felt like they were irrationally saying things just to get out of each others way when it was already too obvious they don't want to be. Maybe its to make the story longer but it literally took forever for them to be with each other.
Another thing, this book has totally given me all the girly feels like, pretending to crush someone else while really, you have a crush on your close friend is so annoying and very real life that I can't even wait but feel excited with how Rikki and Sam would end up. And when they did, I thought, once again, that it was cute. Their beginning and ending were cute but in the middle? Its frustrating as hell and you can't help but get excited with the little moments Rikki would try to put on cause you're that excited for them to get together. Ugh!