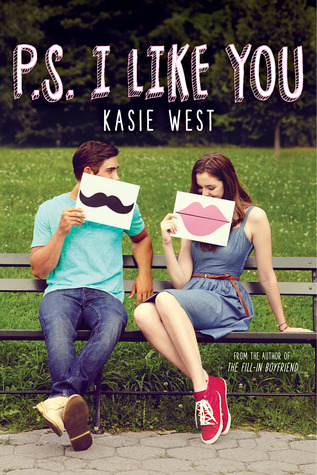 Book Title: P.S. I LIKE YOU
Genre: Young Adult Romance
Author: Kasie West
Purchase: AMAZON | B&N

Book Overview

Signed, sealed, delivered…
While spacing out in chemistry class, Lily scribbles some of her favorite song lyrics onto her desk. The next day, she finds that
someone
has continued the lyrics on the desk and added a message to her. Intrigue!
Soon, Lily and her anonymous pen pal are exchanging full-on letters—sharing secrets, recommending bands, and opening up to each other. Lily realizes she's kind of falling for this letter writer. Only, who is he? As Lily attempts to unravel the mystery
and
juggle school, friends, crushes, and her crazy family, she discovers that matters of the heart can't always be spelled out…
---
---
I wasn't able to take notes because I thought the book was too cute to even pause. Though I didn't really need to take notes because the book itself for me had less to no flaws at all. Yes, for some it might've been a little too obvious as to who the secret guy was but to me, I was a bit skeptical. Maybe that was it, maybe that's exactly what lure me in and made me what to finish the book all the way.
So secret guy and Lily live a different life. As in so so different even I had a hard time thinking if they could really make their relationship worthwhile because one, Lily lives around chaos and the life she lived in was fun and crazy whilst Mystery guy lives a rich life with a distant parent he wants nothing but to reach out to.
The friendship in this book was admirable. It was too strong and it felt raw. Like there are actually friends like Isabel out there in the world who are selfless and understanding. All through out the book it was obvious to me that their friendship was stronger than anything else because not many friends are willing to give way and support their friends when they both want the same thing. Or she used to.
The book all in all is absolutely worth the time, penny and I regretted holding it off for a few days thinking that it might not click with me. Kasie is a new author for me and she made an absolutely great first impression. I recommend this book to all readers of all genre and to all ears who'd listen to me rant about it. YA's are such a refreshing read. I know this now.