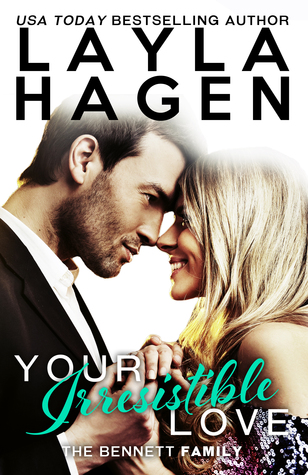 Book Title: Your Irresistible Love
Series: The Bennett Family
Genre: Contemporary Romance
Author: Layla Hagen
Purchase: AMAZON US ♥ UK ♥ CA ♥ AU

Book Overview

Sebastian Bennett is a determined man. It's the secret behind the business empire he built from scratch. Under his rule, Bennett Enterprises dominates the jewelry industry. Despite being ruthless in his work, family comes first for him, and he'd do anything for his parents and eight siblings—even if they drive him crazy sometimes. . . like when they keep nagging him to get married already.

Sebastian doesn't believe in love, until he brings in external marketing consultant Ava to oversee the next collection launch. She's beautiful, funny, and just as stubborn as he is. Not only is he obsessed with her delicious curves, but he also finds himself willing to do anything to make her smile.

He's determined to have Ava, even if she's completely off limits.

Ava Lindt has one job to do at Bennett Enterprises: make the next collection launch unforgettable. Daydreaming about the hot CEO is definitely not on her to-do list. Neither is doing said CEO. The consultancy she works for has a strict policy—no fraternizing with clients. She won't risk her job. Besides, Ava knows better than to trust men with her heart.

But their sizzling chemistry spirals into a deep connection that takes both of them by surprise.

Sebastian blows through her defenses one sweet kiss and sinful touch at a time. When Ava's time as a consultant in his company comes to an end, will

Sebastian fight for the woman he loves or will he end up losing her?
---
---
*ARC Provided for an Honest Review*
It was a great come back after the recent books I've read. I could definitely feel the chemistry of the characters were undeniable but I have to admit that it wasn't so special when it comes to the story line.
The author definitely delivered well and both the characters were bearable. Sebastian and Ava are one of those career devoted persons and their resistance to be together because of said fact is just too much to handle.
Why not 5 stars? Hmmm. I thought it was an easy read really, not too bombing and not too boring either. I definitely connected with the characters, yes. I also loved every scene but sometimes I could actually feel myself withdrawing from the book. Anyways, all those aside, This book is totally worth the read and I would recommend it to anyone. After all, Sebastian's type are my types of guys, maybe that was why I liked the characters so much.
I am definitely looking forward to the next installments. I have a feeling I'll love the next book.
There is a giveaway for a